Hey church girl! Are you experiencing doubts? Thinking of backsliding? Have a "worldly" spirit in ya bones? Jokes aside, in this day it is easy to have doubts about God, his church, and identifying as a Chrisitan. Here's a reminder of the benefits of being in a relationship with God and his Church. 
Benefits: Relationship with God 
Salvation in the Future and Present 
When we think about salvation, we think about Jesus saving us from eternal damnation. And this is the gospel, that Christ died for our sins (1 Cor. 15:3). However, Christ's death does not just reconcile our future selves with God, but also our present.
Firstly, let's start in the beginning: when Adam and Eve sinned, their futures were cursed (Genesis 3:16-19), but their "present" was also altered because God cast them out of the garden (Genesis 3:22-24). Humanity no longer had access to God. We lost our closeness to him. The entire story of the Bible is humanity's attempt to get right with God and restore our relationship with him.
When we accept Christ, we change our future and our present. We can talk to God, pray to him, sing songs to him, experience his presence, and be changed by him. Therefore, your future and present both changes. In this godless world, you get to experience a connection with the one true God right now. How cool is that church girl?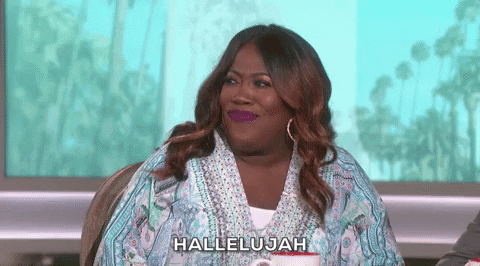 Identity
"So God created man in his own image; He created him in the image of God; He created male and female."
Genesis 1:27 (HCSB)
With changing societal norms, sometimes it feels like you can't see yourself in God, or more like you don't see God in you. For some of us, the issue is the masculine description of God. Let's unpack this. 
Scripture is clear that humanity is made in God's image, including women (Genesis 1:27). God is often referred to as in masculine form because this acknowledges God's personhood and relational connection to humanity. But, in addition, the Bible is clear that God is not gendered, God is spirit. (John 4:24). And specifically, there are plenty of instances where the biblical authors use feminine imagery to describe God. For instance, the concept of God's wisdom, the knowledge of right and wrong, is personified as female. 
I write all of this to say, church girl, that God created you in his image. The very things that make you "woman" come from God. Don't get caught up in gender presentation that you miss out on relational closeness with God. 
Benefits: Relationship with his Church 
And let us not neglect our meeting together, as some people do, but encourage one another, especially now that the day of his return is drawing near.
Hebrews 10:25 (NLT)
A relationship with God, that's the easy part. Being a part of the church community – as a woman – whew chileeee.
The source of hesitancy may come from either sexual trauma, emotional abuse, spiritual abuse, or a combination of all three. There are plenty of examples of women being hurt at the hands of people who say they love Jesus. You may be hesitant because of your current stage of life. Whether you are single, married, divorced, a single mother, and/or a widow; our status affects the way that we are cared for and experience community. 
At any rate, God still calls us to gather with one another in healthy community. As women, we play important role in the church. Here are some benefits of being part of a local church:
You become part of a family

You use your gifts to serve the community and beyond 

There are people that can walk you through difficult times 

God uses you to walk others through difficult times

Discipleship/life advice 

There are people to challenge you and hold you accountable 

You are constantly engaging with God's word 

You grow in your communication skills and ability to deal with conflict 

You worship and pray with other believers
You can have a lot of fun
There you go, church girl! It's not easy being a Christian. Resolve those doubts, unpack that trauma, and enjoy the benefits that God has designed for you.