Let me set the scene for you. Its 2013. I sat down and purposely decided to watch my first full season of The Bachelor. Before this, I had seen various clips of the show, but had never actually seen a full season. So here we were, carving out time every Monday evening to watch this popular reality show. Fast forward, it is now 2015. Love Island USA is premiering on CBS and of course I am excited. Another dating show was coming into my life. Now for the last time, fast forward to early 2022. An old friend of mine suggested that we watch season 14 of Married at First Sight together. Now its August 2022 and I am fully categorizing myself as a lover of dating shows. My not-so-guilty pleasure.
However, as a black woman, I'm stuck in a dichotomy. While loving the shows, it's hard to not notice the way black women are treated on the shows – especially dark-skinned black women. So, let's talk about the plight of the black woman on reality dating shows.
The Black Women of Reality TV
Finding love on TV has exploded in popularity over the past few years. It started with The Bachelor franchise doing what no show had done before. But now, there's so many- from Love is Blind, to The Ultimatum, Love Island (USA and UK), Married at First Sight, Too Hot to Handle, F-Boy Island (yes, I watch all of these shows). All the shows, while different paths, all have the same goal – to find love through a social experiment.
However, on these shows, it has proven that for Black Women – finding love is significantly harder than for their peers of other races. First and foremost, the number of black women casted on these shows can be counted on one hand. And then second, the number of men casted that are attracted to black women can also be counted on one hand. And that thought is felt from not only the black women on the show, but the women watching the show.
How do black women find love when no one wants to give them a chance? Can they stand out when all the other girls on show look nothing like them which is just a brutal reminder of men's "preferences"?  How can they love men that seem to love their personalities but say nothing about their looks? By the way, saying "I just love your personality" with no mention of also saying how gorgeous physically you are is such a backhanded compliment – almost like "you are so pretty for a black girl". These types of compliments never lead to romance, only more friends.
The Realities of Reality TV
For years the media presents this idea that black women are "hard to love". Reality television just takes that idea and runs with it. I would describe Reality TV as just a microcosm of the world at large. Just like in reality, dating TV shows always show black women getting the shorthand of the stick. And as the seasons of the shows go on, it doesn't get better. You would think the shows would learn from the past, but just like the world, we don't truly learn, we just figure out how to go around the issue without ever really dealing with it.
The same goes for dating in the real world. Ask any single black woman about their dating history, they would probably have tons of horror stories to tell you. Stories of when they didn't feel seen or as stated before, attracted to. Stories of feeling like that they must do and be so much more just to be considered. That of course is the feeling I get whenever I watch these shows. And I am sure I am not the only black woman feeling this way. Representation on TV, unfortunately, often plays a significant part in how we view ourselves and the world around us. So, the frustration that arises when we see people on television who look like us always be mistreated romantically due to the color of our skin is palpable.
The Mistrust of Men
This sort of treatment leads to a mistrust of men that do seem to care about black women. On the most current season of Love Island, there is a black couple, Timmy and Zeta. They have been coupled up since the very first episode, and yet we think that there is a possibility that Timmy doesn't really care about Zeta and that he is only in it for the money (the winning couple gets 100k).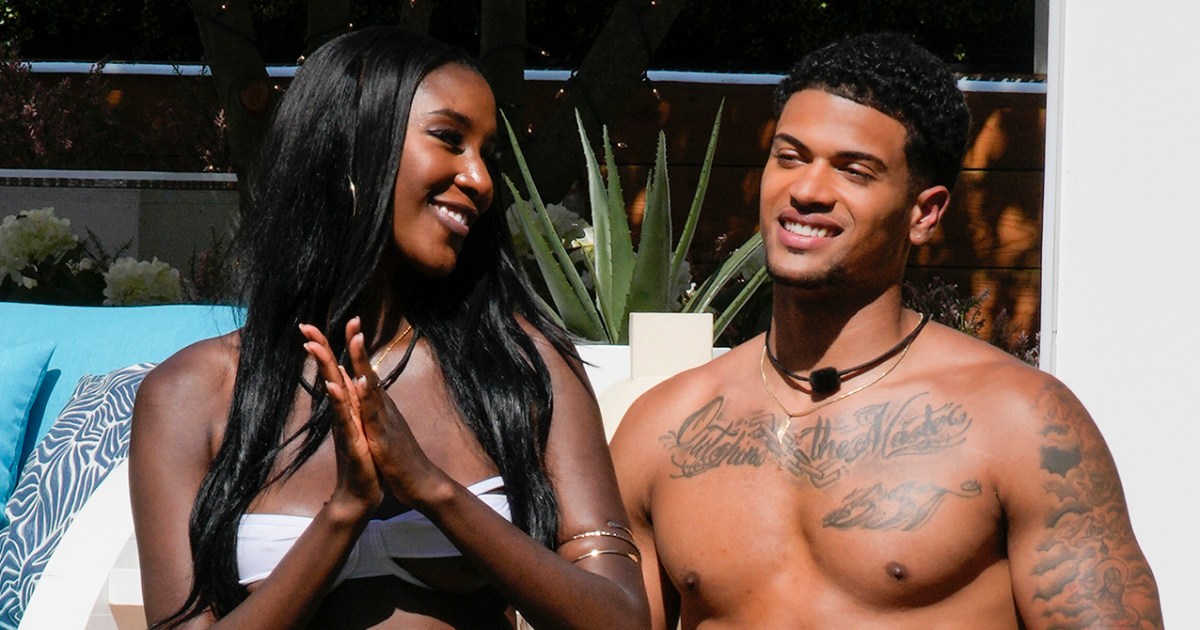 #loveislandusa Z need to check herself the minute love island is over timmy is going to cheat on her left and right. Remember this tweet they ain't going last

— Marta (@Marta90846428) August 10, 2022
We have so much mistreatment of black women trauma that we don't trust anyone that seems remotely too good to be true. Translate that to the real world. It is very easy to do so. Black women, I am speaking to you. Have you ever had a man show interest in you and maybe the first thought is – "does he even like black women"? We've been hurt so much that we place that trauma onto all of our relationships. It may not be a good habit, but it's a factual one.
The Bag of Reality TV
My decision to watch these shows stems from a desire to see Black women win at relationships. I guess I should give some grace to a couple shows that have at least tried to give us that hope. Love Island USA, Season 2 featured the first black couple winning the show and the current season of the same, will most likely have another black couple win. And Love is Blind Season 1 gave us Cameron and Lauren, 'nuff said! So, I gave 3 examples of when black woman won at life and love on these shows. But unfortunately, that is not the majority. So, what do black women do? They are still going on these shows, and I am sure it is not because they want to be embarrassed on national television (even though that seems to be a constant). So why are they on these shows?
The bag. And honestly, I can't blame them.
The Bachelor is known to produce influencers who go on to host successful podcasts and collaborate with popular brands. The show even gave us Rachel Lindsey who is now a full-time correspondent with Extra. Black Women on other popular shows knows they can gain Instagram followers by the thousands daily – they can even show hop onto other popular shows which can open the bag even more. And you know what I say to that – why not?! Turn that lemon into very expensive lemonade sis.
And while you are drinking from all the various cups, remember beautiful black woman that you are gorgeous and loved and valued and honored and no reality TV show can take that away from you.