As the first woman and person of color to win the Boston mayoral race, Michelle Wu changed the perspective on what Boston used to be.
Among the youngest mayoral candidates in nearly a century, Wu, 36, is also the first mayor not born and raised in Boston.
She is the daughter of Taiwanese immigrants who grew up in suburban Chicago, USA Today reported.
Wu's victory was not close: Polls had predicted she would beat City Councilor Annissa Essaibi George by more than 30 points, and her vote share was around 28 points higher than Essaibi George's.
Former Boston mayor Marty Walsh left his post as labor secretary to join President Joe Biden's administration, making Kim Janey the first Black woman to be appointed to that position.
In a recent post shared to Twitter on November 2nd, Wu offered thanks to those who voted.
Michelle Wu was endorsed by several prominent Massachusetts Democrats in her campaign for mayor, including Sen. Elizabeth Warren, Rep. Ed Markey, and former Rep. Ayanna Pressley.
Essaibi George recognized the historical significance of Wu's election in her concession speech Tuesday night.
"I wanna offer a big congratulations to Michelle Wu," Essaibi George said. "She is the first woman, the first person of color, and as an Asian American, the first to be elected mayor of Boston. I know this is no small feat. You know this is no small feat."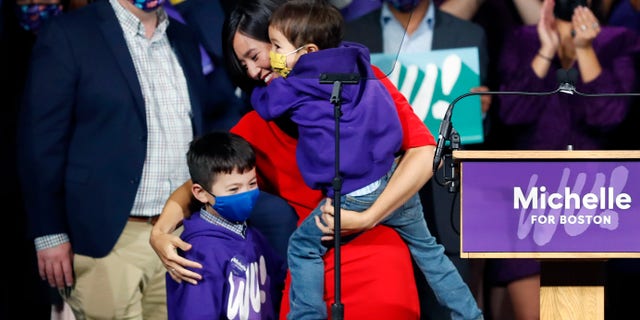 Wu's Political Roots
As a Harvard law student, Wu became a protégé of her professor, Sen. Elizabeth Warren. The New York Times reported that she committed herself to public service after helping her mother through a mental health crisis
After Ayanna Pressley, Michelle Wu became the second woman of color on Boston's city council.
Wu is also among the handful of Asian American and Pacific Islander (AAPI) mayors to lead a large city outside of California and Texas.
As a result of her victory and Aftab Pureval's election as mayor of Cincinnati, the Asian Pacific American Institute for Congressional Studies says there are now eight AAPI mayors in the top 100 cities in the county.
"One of my sons asked me the other night if boys can be elected mayor of Boston. They have been, and they will again someday, but not tonight," Wu told her supporters on Tuesday night. "On this day, Boston elected your mom because, from every corner of our city, Boston has spoken."