Back in July someone sent me a link to an article of 25 Black faith leaders you should follow.
From the list I deduced that the extent of the research the writer must have conducted was a quick google search of popular Black preachers and they figured that would suffice. It does not.
This is not to say the individuals on the list are not gifted leaders in their own right. However, unbeknownst to many, there are faith leaders more firmly suited of comprising such a list. These are Black faith leaders of quintessential importance right now. 
So much so, a random list thrown together to clout chase will not cut it.
In the face of bad theology, social injustice, systematic racism, misplaced allegiance, misrepresentation of Black and Brown people, and the disregard of Black and Brown issues by White Evangelicals—it's of the utmost importance to introduce and present a more accurate list of leaders to follow. Those who are on the front line for the faith, cutting through the cacophony with truth, love and admonishment. Those who know the gospel and do not disregard our ethnicity, nor place it in competition with our theology, but rather profess that they are in concert with one another.
God did not give us the color of our skin as an after thought, nor does He disregard it.
My level of ennui with such notions and the rhetoric that race/color some how does not matter, yet every representation of Jesus and all the people of the Bible are portrayed as more European than African.
It matters, and this list matters. I take such umbrage with certain individuals being omitted from a list such as this.
T.I., when asked to list the greatest rappers of all time, did so based on impact. Not accolades, or popularity.
The list of Black faith leaders to follow should be done similarly.
This list includes leaders that have great impact, and are uniquely gifted to deliver the word of truth with exceptional exegetics, and precise practical delivery for amplified application.
They are equipped to answer and defend, for whoever may ask a reason concerning the hope and confident assurance within them, with gentleness and respect.
They are leaders who are really about that Christ life, present in a time of need, culturally connected, can contend for the faith, and who love people immensely.
This is the criteria for such a list. These are the leaders from 20-1:
20. Pastor John K. Jenkins Sr.
Instagram @johnk.jenkins
Pastor John K. Jenkins Sr. has been preaching the Good News since he was licensed as a minister in 1973 at 15 years old.
He has been leading First Baptist since 1989.
19. Brandon Watts
Epiphany Brooklyn
@b_wattz
Gifted in connection and authentic compassion, Pastor Watts is well trained and well suited for difficult places like Brooklyn.
18. Carl Day
@pastorcarlday
Culture Changing Christians
He has the heart of the community like the old school block captains, with a knack for teaching, being involved, and responding to the cries and issues that affect the community. Pastor Carl sits on a city board and most recently garnished national attention for his live on air question to Donald Trump.
17. Jennifer Lucy Tyler
Soul Circles Events
@jenniferlucytyler
Author and teacher of Women's Bible literacy. Jennifer is a sound, relatable teacher. Her attention to detail in both the word and her style has become a staple for how she connects with women of all ages.
16. Bryan Carter
Concord Church
@mrbryanlcarter
Bryan Carter serves as the senior Pastor of Concord Church's 9,000-member congregation in southern Dallas. He is also committed to serving our community and the city of Dallas, and is currently serving on the boards of the Frost Bank Dallas Advisory, Impact Dallas Capital, Bible Study Fellowship (BSF) International, and the Dallas Police Department Community Advisory.
15. Albert Tate
Fellowship Church
@alberttate
Tate is culturally relevant and gifted in creating common ground in his style of preaching—proving that he has his finger on the pulse of the culture.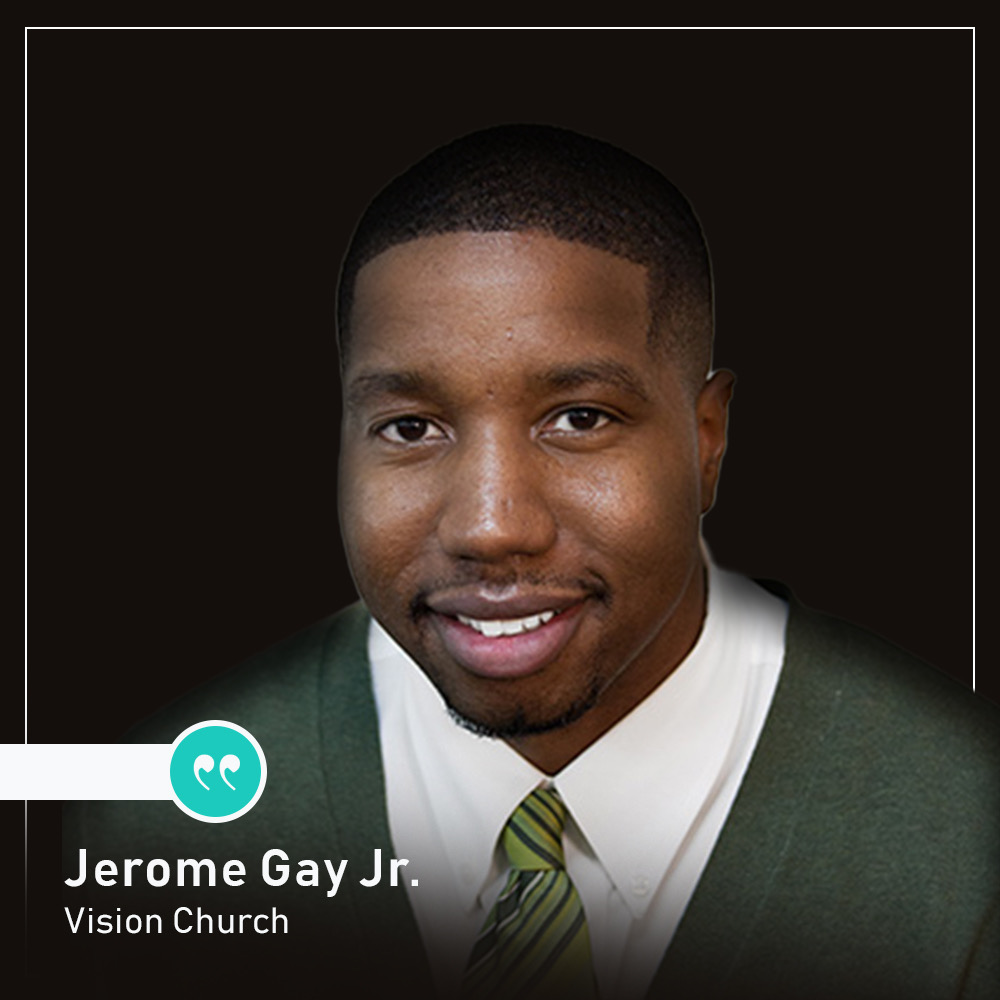 14. Jerome Gay Jr.
Vision Church
@jeromegay
A Timothy of our time, sound, smart, and on fire with no backing down. He is always willing to contend for the faith with attitude. Pastor Gay has challenged representatives of occult religions and stood strong on the word.
A.k.a he is with all the smoke!
13. Mike Todd
Transformation Church
@iammiketodd
Best-selling author and interactive style preaching has made Mike Todd one of the most influential and sought after Pastors to reach millennial and Gen Z Christians.
12. Preston Perry
@preston_n_perry
Apologist and spoken word artist, Preston shared his life and became one of the most relatable voices for the millennial church and helped re-popularize spoken word while demonstrating a strong practical understanding of the scriptures and real life experience in the culture.
11.Tye Tribbett
Live Orlando Church
@bowtytrib
Tye Tribbett has been a megaphone of a voice for this generation maybe only second to Kirk Franklin in regard to impact through his music. Tye has also demonstrated, though charismatic in delivery, his teaching and preaching is soundly rooted.
10.Dharius Daniels
Change Church
@dhariusdaniels
The preaching gift of a seasoned vet., but also tech savvy. Truly a generational trendsetter who gets busy in the word.
9.T.D. Jakes
The Potter's House
@bishopjakes
If you need to measure his impact, just consider this, he is the only person on this list that has ever been invited to The Breakfast Club. His long lived life in serving the community, leveraging his platform and resources for Black businesses and Black communities has made it clear that his influence remains impactful. Though often criticized for his prosperity preaching, and rightfully so, Bishop Jakes continues to be a powerful voice in the culture and a beacon for the faith.
8. Jackie Hill Perry
@jackiehillperry
Maybe the most popular Christian spoken word artist ever, Jackie has become a go-to speaker and teacher and a liaison for reaching millennials. Jackie is also an author and with her podcast boasting tens of thousands of subscribers, Jackie continues to be a strong leading voice for the faith.
7.Dr. Bobby Manning
The Heights Church
@drbmanning
This is the part of the list where everyone here is playing with a created player in NBA 2K.
One of the most skilled preachers with a global impact and local focus; Dr. Manning is meeting both the spiritual and physical needs of the community he serves in D.C.
6.A.R. Bernard
Christian Cultural Center Mega Church
@therealarbernard
A surgeon with the word of God, a true thought leader and a trusted voice for understanding the word of God and a Biblical worldview. A.R. has served as the President of the Council of Churches of the City of New York representing over 1.5 million people.
5. Dr. Sarita Lyons JD. Ph.D.
Epiphany Fellowship
@drsaritalyons
Easily the smartest person in every room she walks into, yet the most giving of herself.
A brilliant teacher, leader, and counselor. One of the most competent and tactful teachers of the word of God of our time. Pioneering a generation of women who do not consider being well versed in the scriptures to be only the responsibility of a man. Let me put it this way, no man would want to preach behind her, she's just that exceptionally gifted and knowledgeable.
4.Dr. Bryan Loritts
The Summit Church
@loritts
To put it plainly, Dr. Loritts is one of the most gifted pastors and preachers in the world. That's not hyperbole. Bryan is also an award winning author with seven books including, Right Color Wrong Culture. He has been lending his voice and insight on topics of race and social justice for years. Some question the validity of his PhD, none question his impact.
3. Charlie Dates
Progressive Church
@charliedates
Becoming the youngest lead pastor ever at Progressive Church in Chicago in its 100+ year history was just one sign that he was special. Charlie Dates has been one of the most consistent voices on social justice while demonstrating proficient prudence of the scriptures and how they relate to our everyday lives. Pastor Dates was a contributing author to the 2014 book Letters to A Birmingham Jail, and the 2019 book, Say It: Celebrating Expository Preaching in The African American Tradition. His first solo book on the subject of Christianity and social justice will be released in 2020.
2. Dr. Eric Mason
Epiphany Fellowship
@pastoremase
Dr. Mason is a once in a generation type of leader.
Uniquely gifted, deeply caring, irrevocably skilled and unapologetic about the Gospel of Jesus Christ.
Beast mode was created by Marshawn Lynch, but Dr. Mason has been on this mode since being called to ministry. He is biblically astute; a true scholar and theologian. A modern day Homer for the faith, but way fresher.
His literature on Biblical manhood and social justice has spawned curriculum for training up the church. If there was a Mt. Rushmore for impeccably sound and skilled preachers of ridiculous proportions, he would be on it.
1. Dr. Tony Evans
Oak Cliff Bible Fellowship
@drtonyevans
Living legend. This list does not exist without his contributions and teachings, literature and faithfulness. Still today he is a vital and reliable voice for the faith. Dr. Evans is easily responsible for equipping 30+ years of pastors.