If you missed the VMA'S don't worry. We are going to recap some of our favorite fashion from the VMAS "black carpet". The VMAS are known for their courageous fashion choices. However, I do think this year, some stars played it safe. There was a lot of black on the "black carpet". So, let's jump right into it.
1. Lizzo – Fashion statement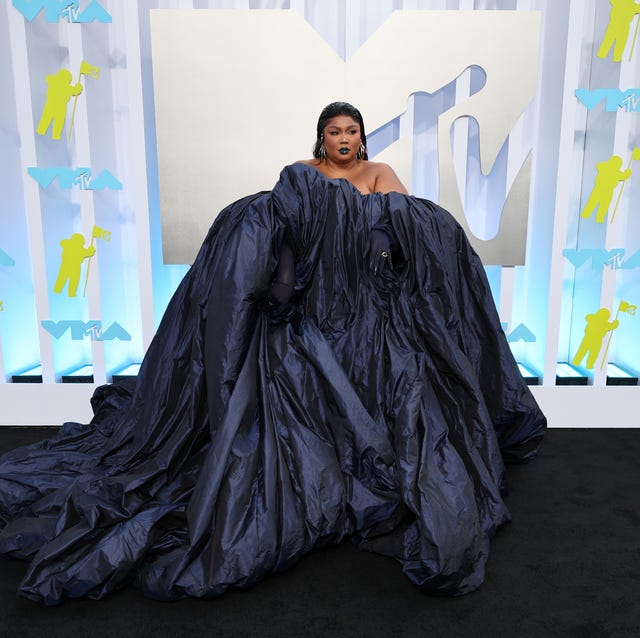 Straight off the couture runways Lizzo made her grand entrance wearing a black Jean Paul Gaultier spring/ summer 22 gown. She accessorized with gold rings, gold hoops, a lip ring and blue black/black sheer gloves. This gown was over the top and the perfect grand entrance for the 34-year-old artist who was nominated for four awards.
2. Lil nas x VMA'S
Always knowing how to turn heads on the "red carpet". Lil Nas X wore an almost identical look, mirroring super model Imans 2021 Met Gala outfit. Designer Harris Reed designed a halo headpiece made out of feathers, featuring a caged feather skirt with black sequence pants. Very dramatic but what would fashion be without it!
3. Sofia Carson – Hooded gown 
The VMA'S "black carpet" was filled with glam. Sofia Carson took a darker approach as well as few other celebrities. Wearing a stunning black gown, designed by Carolina Herrera RE 2023. Fitted with a sheer sweetheart neckline, attached by an oversized hood. Paired with a black stiletto and diamond ring and earrings. Way to go simple glam chic.
4. Jack Harlo – Dark, and sexy  
Keeping it dark and sexy, Jack Harlow wearing a chocolate Hermes (FW22) leather pant suit paired with a satin scoop turtleneck. Although Jack didn't wear sneakers, he topped his look off with black square leather loafers, brown shades, stud diamond earrings and watch. What a way to keep it clean Jack.
4. Chloe Baily – Glam fairy 
Bringing the pressure and stepping out of the all black trend. R&B singer Chole Baily looked stunning in a silver metallic corset gown by Zigman. Mesh and beaded corset wrapped styled skirt attached with a high leg slit. Simple diamond ring, earrings and a cluster styled diamond bracelet.
5. Offset – All white everything 
White at its purest form. Offset rocked a fitted white top with the matching bottoms that are loose slightly flared bottoms. It wouldn't be a fashion statement without his blinged out jewelry. Offset finished the look off with a pair of green and white kicks.
6. Mae Miller – On the edge
 
We love to see straight to the point edgy/glam. 25-year-old English singer Mae Miller's black simplicity was a great sight to see. Giving some edge, she wore a body con leather halter dress, with a cute out cleavage/neckline. Mae kept it basic with little to no jewelry. Fantastic.
7. Nicki Minaj – Pink Princess 
Nicki Minaj loves her some pink. With so much success at the VMAs '22, Nicki looked absolutely amazing. Dolce & Gabbana put together an amazing pink fitted Hollywood glam gown with a thigh high slit, shoulder corset styled, adding a small area of jewels. Nicki paired her look with pink hair, pink stilettos and Jewelry by Cicasa.
Although there was a lot of black, everyone seems to have a creative approach to the 2022 VMAs "black carpet". The black carpet was filled with a lot of personality. What are your thoughts on the fashion from the "black carpet". Leave a comment with your thoughts.